Jeevan Rekha: Cinema's photographic life-line
Jeevan Rekha, released 1 January 1974. Vinyl record cover reproduces the same image, seen later in the article.
This week's post explores an unseen album from a private collection, showcasing continuity stills of the 1974 film Jeevan Rekha, featuring Farida Jalal (b.1949) and Tabrez Barmavar (d.2003) in the lead, whom Farida eventually married in 1978. The early and modern histories of Indian cinema are still being unearthed as the actual reels have often disappeared or decayed with time, and hence there is surprisingly little information in existing archives even about films such as these.
"Forced to kidnap a multi-millionaire's daughter, two unemployed youths are rudely shaken by the evil that exists around them. They come across some of the most incredible adventures in life before the explosive climax"—is perhaps the only synopsis of the film on the world wide web.
Through this post, I attempt to collate available information about the film in order to envision a possible narrative via the surviving photographs; and thereby conjure a 'would-have-been' experience of the film. Thinking through the contextual span of the films' release date, prevalent media trends and most importantly, the rich evidence of over 190 photographs taken during the shoot by an anonymous cameraman—such traces help me to extendedly navigate an unknown plot and character allocation.
Directed by Nanabhai Bhatt, whose earlier productions included Kangan (1959), Police Detective (1960) and Adhi Raat ke Baad (1965) the movie stars Farida Jalal, who by then had already performed in popular movies such as Aradhana (1969) and Amar Prem (1972). Her sterling co-stars include Ajith, Pran, Jalal Agha, K.N Singh and Manmohan as supporting cast. 
(From left to right) Ajith, Pran, Jalal Agha, K.N Singh and Manmohan
The film included a song which became famous at the time—Yaar meri bahon mein aaja (Friend, come into my arms: Singer: Mohd. Rafi; Lyricist: Dev Kohli; Music Directors: Suman Raj and J Jagdish), in which we see the protagonist, lost in the dreamy stupor of love, imagining a companion in his arms—holding her, swooning and pecking her throughout the course of the song sequence.
The invisible or non-present woman, Farida, is cause for ponder vis-à-vis the director's motivation to lead with a more emphatic and dominant female actor at a time, especially when the star power of the male hero was rising meteorically with the emergence of the 'angry young man' persona of Amitabh Bachchan in the early 1970s, seen in films such as Zanjeer (1973). 
---
The Villain
With the seventies, the age of innocence was over, notes author/professor Tapan K. Ghosh in his chapter "Sholay and the Seventies" in Bollywood Baddies: Villains, Vamps and Henchmen in Hindi Cinema. (Sage India, January 2013). Following the India-Pakistan war of 1965, the socio-politics of time presented looming challenges for the future of the nation. The disillusionment in Nehru's utopia—a country led by modern industrialism, and the growing reality of an inevitable economic disproportion—the inequitable distribution of wealth and power; as well as a struggling legal system with rampant corruption eventually led to a grim situation—the Emergency was declared a year after the release of the film on 25 June 1975 (the day of this post, 43 years ago), which created fertile ground for the character of the antagonist to rise in Hindi films.
Officially issued by President Fakhruddin Ali Ahmed under Article 352 (Internal Disturbance), the Emergency was in effect from 25 June 1975 until its withdrawal on 21 March 1977.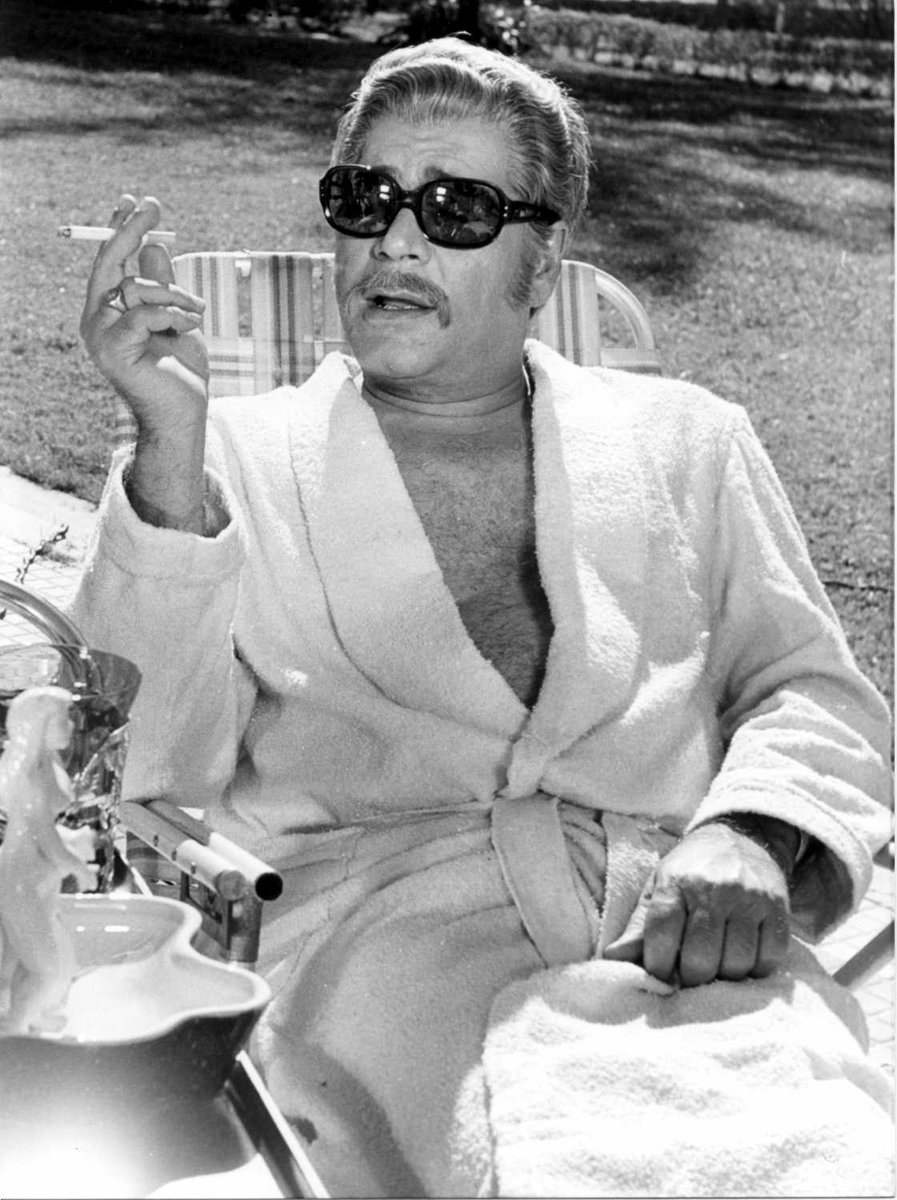 Ajith (Hamid Ali Khan, 1922-1998) in Zanjeer and Jeevan Rekha 
Ajith, who in the previous year acted in Zanjeer (1973) and played 'a suave and awfully relaxed Teja' (Ghosh, Bollywood Baddies, 2013), returns with Jeevan Rekha to play an equally cunning and divisive adversary through his pronounced mannerisms—an elite and calculating persona, always plotting his next move.
The visible unease that his closeness with female protagonist generates, further projects him as a destructive and manipulative insider with the potential to cause irreparable damage. His pipe-holding demeanour and dark-shades that cloak his immersive gaze—all underscore a mysterious, enigmatic, suspicious and shadowy character.
The Heroine
Despite  not having a repertoire of films where she plays the female lead, Farida Jalal was well-known for her roles as a secondary female lead—a sister of the hero perhaps or the rejected fiancee in films such as Gopi (1970) or Bobby (1973).

Farida Jalal in Aradhana (1969) and Majboor (1974) 
When asked about how she started getting typecast as a hero's sister, looking back on her career, she states (2014): "It all started with Gopi where I was offered the greatest—Mr Dilip Kumar's sister's role. … I remember during those days each and every actor was copying Dilip Saab whether it was Dharmendra, Jeetendra or Manoj Kumar. Every actor wanted me to play his sister. Sometimes the sister was the film's heroine. The official heroine would just sing her songs, whereas I had all the dramatic scenes."
And even in Jeevan Rekha which went on to be one of the few films where she plays the female lead, the narrative projects has her as the sole character at the centre of the plot, stretching all emotional bandwidths. She appears as a wealthy, upper-middle class girl, possibly heiress and ward to Ajith, occasionally enjoying her to be escapes to the vernal countryside—barns, fields or forests. Her escapades finally lead to a distressed situation from which she desires urgent rescuing.
The Male Protagonist
Tabrez Barmavar plays a kidnapper in the film, but also a photography enthusiast. He and his partner-in-crime, Jalal Agha (1945-1995), are seen in several frames either handling the camera or developing negatives in the dark room. This brings forth pressing questions regarding the prevalent trends of photography in India at the time and the reason for endowing the kidnapper a passion for capturing likenesses—a fashionable, 'modern' hobby such as photography highlighted how this media at the time was also playing a central role in the popular imagination. 
As discussed by author/curator Sabeena Gadihoke, magazines such as the Weekly began to carry a series of profiles on 'Indian Photographers' in the 60s with the rise of photojournalism. Cameramen such as Kishor Parekh (1930-1982) also published there as a young practitioner until he returned to India in sixties to join the Hindustan Times.  Along with S. Paul, Raghu Rai and Pramod Pushkarna, he would represent an emerging generation of image-makers for the press, releasing their shots even in the India Today which was also established in 1975; while practitioners such as Raghubir Singh continued to publish in the Weekly till the mid-seventies too. 
Pranab Mukherjee by S.Paul, 1984, Indian Express archives 
Spread from the album 
Another emerging trope developing around heroes of the time was that they were no longer projected as flawless paragons of virtue. Quoting Kalicharan: Is duniya mein ek aam aadmi achcha nagrik nahi ban sakta hai (In this world a common man cannot become a good citizen), suggesting perhaps a rising anti-establishment sentiment in India at the time, wherein films gave vent to public grievances. Bollywood cinema in this case, played a drastically different role, than for instance, the Films Division in the post-independence era (namely 50s) which made prescriptive documentaries on the rights and responsibilities of the citizen such as Our Constitution (1950) and Democracy in Action (1951). 
Returning to the film, what one would ideally expect from the film during its explosive climax is a long-drawn fight scene between the hero and the villain. Surprisingly, in Jeevan Rekha, the honour of the final fight has been given to Ajith and Pran. One judges by the number of frames devoted to the fight that the finale takes place over many sequences, before Pran prevails, which we see in the final shot of the album.
Pran
The character of Pran (Pran Krishan Sikan, 1920-2013) is introduced only midway through the album. From the late sixties, Pran in spite of being in his forties, was not only being courted for major roles but had also shifted to essaying the roles of the protagonist. By then, he commanded great respect and it was rumoured that actors/directors of the time would request him to be a part of their productions in order to triumph at the box office.
Piecing together a plot through photographs
Farida, the heiress and ward of Ajith is captured by two small-time kidnappers—Tabrez and Jalal. With no intention of harming their captive, they take good care of her, resulting in a case of Stockholm Syndrome—with Farida falling in love with Tabrez.
Tabrez reciprocates and decides to take her home, when he encounters her guardian, Ajith, who offers him money to kill her instead, ensuring that he, Ajith, would become the sole owner of all her sprawling properties and estates. Accepting the money under the ruse of killing Farida, Tabrez and Farida abscond.
Somewhere along their escapades, Pran, her actual father, gets on their trail, after finding an earring—one of a pair that he had gifted his daughter years ago. Upon following the tracks using this one clue, he confronts the two fugitives whom he assumes have Ajith's daughter captive.
Tabrez and Jalal, with the money they received from Ajith, plan to set up a new life far away from the dangers of this growing family feud. But by now, Ajith is on to them. He sends his henchmen to finish the job—but they are unable to defeat Tabrez, who valiantly defends her.
With no other choice, Ajith takes this task upon himself and finds Farida and the two men, while Pran also arrives on the scene. A long fight ensues. Pran prevails! Father and daughter, Pran and Farida are finally united. Tabrez lurking somewhere out of frame, gives the family reunion its due space.
Advertising
Amidst the little publicity material I was able to find for the film—namely a vinyl record-cover featuring a film still from the album; another publicity image which foregrounds Farida Jalal looking directly at the viewer, I find that even in other current films, she continues to play a central role in the photo shoots selected for public consumption—in Ram Teri Ganga Maili (1985) she is placed against a trendy, psychedelic background (something similar appears within the photo album with the protective butter paper between the pages).
Furthermore, in the movie posters from the seventies one sees a very apparent, if not pronounced shift towards the use of photography in the lobby cards and other paraphernalia—characters placed against large grounds of flat colour, as compared to posters from the sixties or earlier, that still highlight some dependence on drawings or illustration as visual elements.
Front and back cover of Vinyl record, Jeevan Rekha, released January 1, 1974
 Promotional Material for Jeevan Rekha 
Spread from Bollywood Cinema Showcards with showcards from the 70s
The original and the re imagined image of Nutan at the Jitendra Arya Retrospective exhibition, 2017, Jitendra Arya Foundation.
The art of photography as effected during the filming process was perhaps restrained but crucial—primarily to document and capture as many details and minutiae as a reference for the various on and off-site purposes—from makeup to set design—and we notice some images that perhaps mistakenly include set lights (above right). There most likely was also need to use these images individually, perhaps as enlargements on billboards for promotional reasons as some images have specific crop marks (bracketing) on the photographs, suggesting the requirement of a tighter frame.
Hence, still photography, which has often been separated from discourses around motion film, in this instance, provides evidence of a narrative that may have been lost altogether if it weren't for this surviving album. This form of extensive, sequential, location-wise documentation not only preserves a storyline of the film, but also presents a unique opportunity to read an actual or alternative or expanded narrative and context around the film while gauging the cinematography, if not scenography intended by the director.
In this case, photography becomes our only 'jeevan rekha' or life-line to experiencing such films.